How does Thirdlane Web Dialer work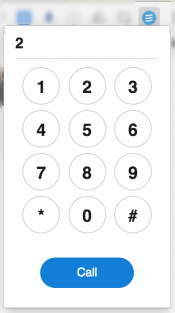 Thirdlane Web Dialer operates by calling the third party via the PBX while making a call back to the user's phone.
Thirdlane Web Dialer either with user's help or automatically recognizes if a user is logged in into any of the supported CRMs and after searching CRM for a Lead or a Contact with a matching phone number uses the CRM browser page to display the relevant Lead or a Contact record (a screen pop)..
Screen pops can be automatic or user managed, depending on the configuration options.
For CRM integration, Thirdlane Web Dialer requires Thirdlane PBX or Thirdlane Multi Tenant PBX version 7.5.X or later.
Thirdlane Web Dialer Features
Click to Call. Automatically turns all recognized telephone numbers into click to call targets. You can also highlight (select) any number on the web page, right click, and call.
Chrome Address Bar Dialing. Allows to Call from Chrome address bar by entering "call" keyword.
Salesforce and other CRMs Integration. When you are logged in into any supported CRM, Thirdlane Dialer tries to lookup Accounts, Contacts and Leads based on the caller id of an inbound call or a phone number of an outbound call and displays CRM data.
Customization. Allows to specify an additional URL to be used for screen pops when you are not logged in into any CRM or if caller/callee data is not found in CRM.
Example : http://www.whitepages.com/phone/${PHONE}
How to configure Thirdlane Web Dialer