Special Mailboxes allows you to manage Voicemail mailboxes that are not associated with User Extensions.
Edit Special Mailbox​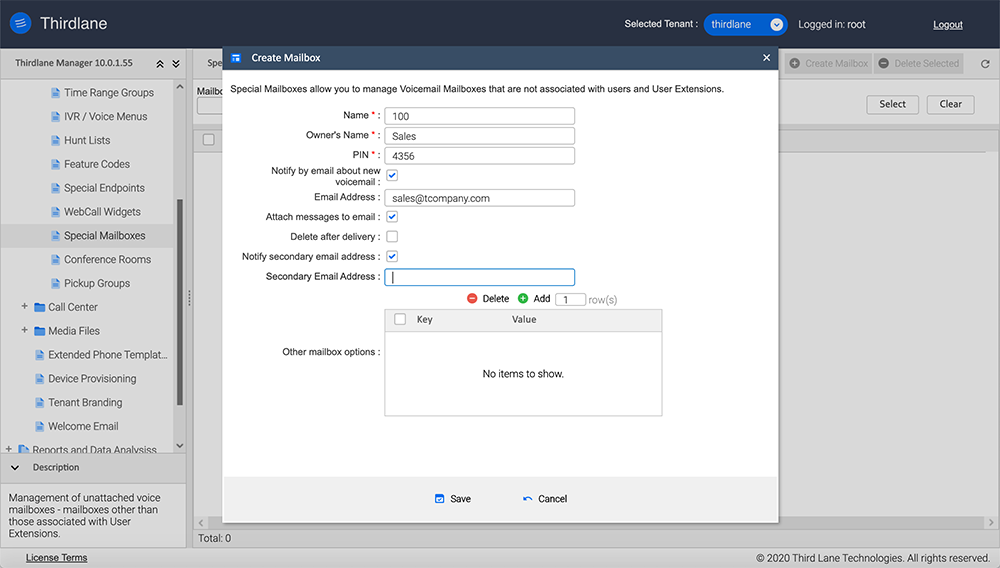 Name. Unique identifier for this Special Mailbox, typically a number.
Owner's name. Name of the mailbox user; used by the Directory application when listing users.
PIN. PIN (password) for accessing this mailbox.
Notify by email about new voicemail. Specify whether an email will be sent any time a voicemail message is left in this mailbox.
Email Address. Email address to forward voicemail messages. Specifying email address will result in email notifications being sent every time a new voice mail message is left in the mailbox.
Attach messages to email. Determines whether the voicemail message audio file will be attached to the notification email.
Delete after delivery. Determines whether voice mail will be deleted after it is delivered.
Secondary Email Address. A secondary address to send notice about the new voicemail.
Other mailbox options. Additional options for this mailbox. See Asterisk documentation for the list of available options.