The latest version of Thirdlane Connect 2.1.1 contains many new long-awaited features as well as various bug fixes and performance improvements.
For those new to Thirdlane - Thirdlane Connect provides your team with chat, voice and video calls and conferencing, screen sharing, file sharing, CRM and application integrations - all fully integrated with our advanced telephony.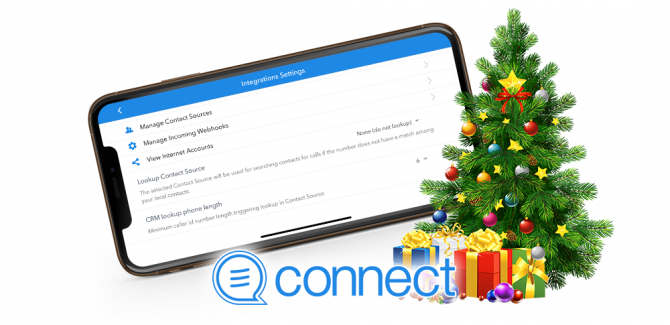 In this blog post, we will only include a brief overview, for more details, please refer to the updated Thirdlane Connect Documentation which can be accessed from the "About" section of Thirdlane Connect settings.
Three-Way Calling

This brand-new feature allows Connect users to merge two different ongoing calls into one, so that all three parties can talk to each other. There is no restriction on call types, which means that you can easily connect a direct (peer-to-peer) call with an external call to landline or mobile phone numbers. Each of the merged calls has individual UI controls, so you can, for instance, mute microphone for each call separately. You can also split a merged call into two any time.
The feature is available on Web and Desktop versions of Thirdlane Connect.
Enhanced User Presence

We added some additional information to Thirdlane Connect user presence. You can now clearly see which contact in your contact list is on the phone - a prominent phone icon will overlay their avatar image. This also refers to channels that have ongoing calls. In addition, a client device type indicator was added to all online users.
Message Search Enhancements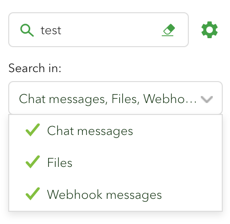 Besides regular chat messages, it is now possible to make search in files and messages sent by applications via webhooks. Moreover, you can select message types to make search in with a new select widget. The feature is available on all platforms.
What's New in Mobile Applications
Landscape Mode. Both Android and iOS applications now support landscape mode which is especially convenient on tablets.
iOS 12 and new iPhones support. With the arrival of brand-new "notched" phones, we reworked the "notch" support, especially in landscape mode, and fixed some issues that showed up on iOS 12
Call Forwarding. Android application now supports Call forwarding feature. On iOS application, the feature has been reworked: we added convenient autocomplete feature and attended transfer support.
Keyboard Shortcuts
To improve user experience in interaction with Thirdlane Connect features, we added new convenient keyboard shortcuts to Desktop version of Thirdlane Connect. You can switch between menu items, chats or use call controls with just pressing a key sequence.
The full list of keyboard shortcuts is available in the "Keyboard shortcuts" section of Thirdlane Connect documentation.
Other Enhancements
Screen sharing in Desktop applications. Now you can select which screen to share if there is more than one screen connected to your computer. Screen sharing of a specific application has also become available.
Added Integrations Settings to Thirdlane Connect on iOS. Users can now manage their Contact Sources and Incoming Webhooks directly from the iOS application.
Media device settings. Now settings are persistent for a specific device and are not reset after logging out. We have also added an ability to select different audio output device for calls and notifications. This may be useful for people who make calls via a headset, but would like to hear notifications from their computer speakers.