Thirdlane Connect is a softphone, messaging app, and more. It provides secure one-on-one and group chat, voice and video calls and conferences, screen sharing, file sharing, and CRM and business applications integration.
Thirdlane Connect enables both team collaboration AND customer communications in web browsers, on mobile devices, and Windows, Linux and Mac desktops.
Here is how Thirdlane Connect looks on a Mac: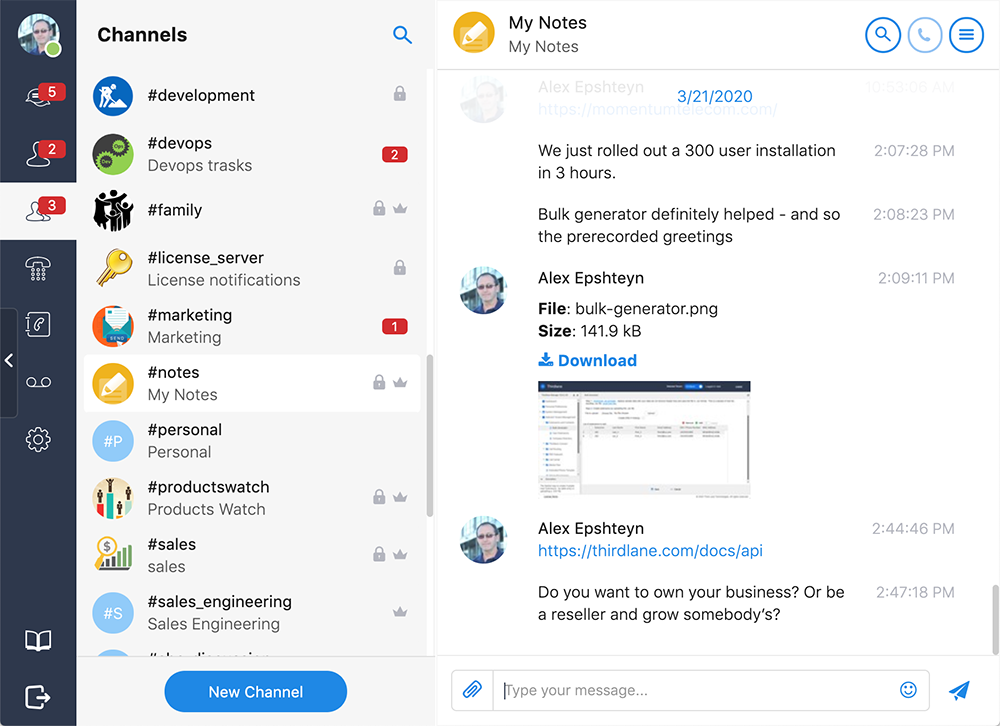 With Thirdlane Connect you can:
Send and receive secure messages in direct and group conversations

Receive messages from various applications via Slack compatible webhooks

Manage personal contacts

Escalate conversations as needed - from chat, to voice, to video

Setup and manage conferences

Create and use private and public channels for team communication

Log in using Google or Office 365 accounts

Access Google and Office 365 contacts

Use click-to-call and get screen pops in Salesforce and other CRMs

Share status and presence with your team

Share files

Share screen

Access and manage your voicemail

Manage call recording, listen to recorded calls

Manage call forwarding, screening and blocking

Move calls between mobile Thirdlane Connect and your desk phone

Call from mobile phone using office extension, keeping mobile number private

Save international and long distance charges by making calls from mobile device via Thirdlane phone system

Take full advantage of the advanced business phone system functionality

Send faxes from anywhere, even mobile phone
Desktop versions of Thirdlane Connect are distributed with the Thirdlane Platform and can be downloaded and installed using browser based Thirdlane Connect, while mobile versions are available on Google Play and App Store.